Inspired by Ratatouille: The Adventure at Disneyland Paris, the Disneyland Paris Christmas Advent Calendar today has provided us with another great tasting Classic Disney recipe! On the 21st of December, we are shown the Disney Winter Ratatouille Recipe.
Ratatouille is a French Provençal stewed vegetable dish, originating in Nice, and sometimes referred to as ratatouille niçoise. This is also one of the staple dished served at Bistrot Chez Rémy within Disneyland Paris, Parc Walt Disney Studios.
If like myself, and you have never had this before visiting Disneyland Paris, you will be surprised! This is an amazing dish and tastes incredible! However, Jean is placing a winter twist on this dish, and we cannot wait to try this too!
Disneyland Paris Christmas Advent Calendar Day 21 : Disney Winter Ratatouille Recipe
This dish has become famous around the world thanks to the Pixar film of the same name, Ratatouille. When Remy must create a dish and deliver 'their best shot' to impress Anton Ego, a food critic. Remy decides to serve up a simple 'peasant' dish, which reminds Ego of this childhood and his mothers home cooking! Thanks to todays door, we also get to enjoy and create this famous dish at home along with Jean Imbert here.
We all love a Disney recipe and so far we have been provided so many with this unique Advent Calendar. We have had Disney Hot Chocolate Recipe, Mickey Mouse Macaron Recipe, Mickey Mouse Gingerbread Recipe, Disney Pavlova, Mickey Mouse cookies and the Minnie Mouse Yule Log. Its like Disney know, we are stuck at home and want to bake!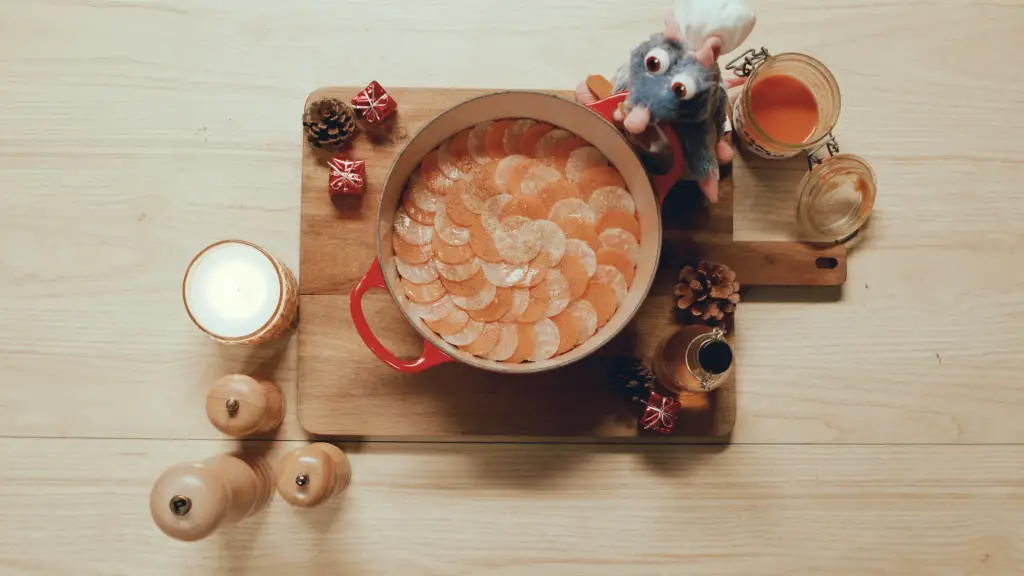 Ingredients
suitable for 6 people
Ingredients:
2 yellow carrots
1 celery root (half for processing and the other for assembly)
3 Jerusalem artichokes
1 white beet
2 round turnips
1 pumpkin
1 sweet potato
Tomato Sauce
Salt
Freshly ground pepper
How to make the Disney Winter Ratatouille Recipe
At the film suggests, this is simple dish to make at home and we are going to show you how with Jean Imbert Disney Ratatouille Recipe
 Wash and peel all your vegetables.
Cut the vegetables into large cubes with a knife.
Fry the Jerusalem artichokes, celery, white beet, round turnip, yellow carrot, and pumpkin separately in olive oil. Pay attention to each vegetable as pumpkin will require less cooking time than the carrots for example. Please ensure they are still al dente (All the vegetables must remain a little crunchy)
Once cooked, place each vegetable into a single large bowl.
Add the tomato sauce and mix with all the vegetables in the bowl.
TIP – If possible purchase a garlic tomato sauce for that added taste.
Cut your sweet potato and the celery into 5 mm slices using a mandolin, then a 3cm cookie cutter. Bring a large pot of water to boil, add salt, and blanch your sweet potato and celery rings for 1 minute. Pour them into ice cold water and pat them dry.
Place the contents of the bowl into an oven dish. Begin to cover the vegetables with the sweet potato and celery rings.
Cook in the oven at 180 degrees for around 20 minutes
Christmas Advent Calendar Countdown
As each new day arrives and a new window opens, we will also be highlighting whats behind each door. We will be showcasing all the days in the Disneyland Paris Christmas Advent Calendar heading our way.
We have created a dedicated section on our blog to allow you to quickly and easily see all the days of Christmas. Click here to view the complete collection of the Disneyland Paris Christmas Advent Calendar.
Merry Christmas and Au revoir!