Disneyland Paris Advent Calendar Day 17 brings something. we have not had so far in the series. Its the first competition! Head over to the Disneyland Paris Facebook page for your chance to win a Richard Orlinski Simba Figure.
for this 17th day of our Advent Calendar, try to win a Simba figurine designed exclusively for Disneyland Paris by artist Richard Orlinski! ? To participate, go to the official Disneyland Paris Facebook page, here
Disneyland Paris Christmas Advent Calendar 17th December. Richard Orlinski Simba Figure.
As part of the Christmas Countdown, today DisneyAtHome advent calendar has revealed a competition which gives you the chance to win a Richard Orlinski Simba Figure.
Simba just can't wait to make a roaring addition to your home! This unique figure is inspired by the popular Disney film, The Lion King. Whilst, the faceted white design features a stylised take on the iconic Simba Disney character.
Magic in the details of this artwork. They were only 4000 pieces produced which were exclusive to Disneyland Paris and shopDisney. Of corse these sold out in a matter of minutes!. However, the figure, design by French artist Richard Orlinski Faceted, is now available to win!
Standing at around H17 x W13 x D8cm approx, the resin figure is no toy and is a perfect decorative item for Disney and Lion King Fans.
Who is Richard Orlinski?
French artist Richard Orlinski, is already known and has created iconic figures before for Disney. In 2017, he produced the Mickey Sorcerer's Apprentice for Disneyland Paris 25th anniversary.
However heading over to his website his bio says…
In love with the art in all its forms, the sculptor dynamite the received ideas and does not hesitate to decompartmentalize the forms of artistic expressions . With a global and universal vision, he likes to explore different fields: sculpture, design, music, live shows …

Represented by more than 90 galleries in France and abroad, Richard Orlinski is, since 2015, the contemporary artist French best-selling in the world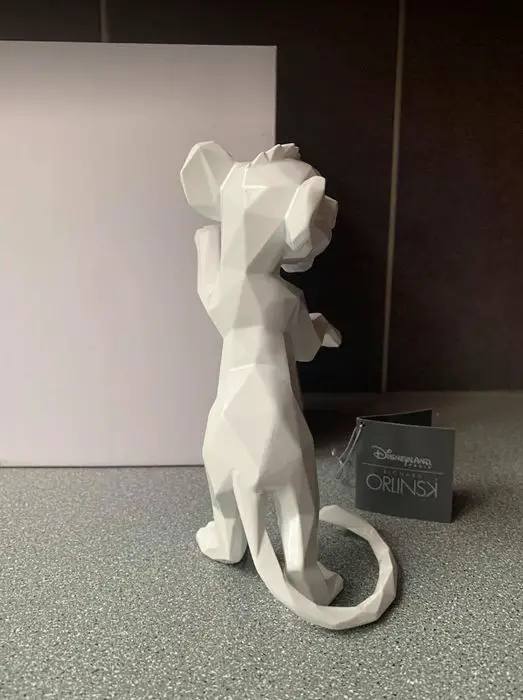 Christmas Advent Calendar Countdown
As each new day arrives and a new window opens, we will also be highlighting whats behind each door. We will be showcasing all the days in the Disneyland Paris Christmas Advent Calendar heading our way.
We have created a dedicated section on our blog to allow you to quickly and easily see all the days of Christmas. Click here to view the complete collection of the Disneyland Paris Christmas Advent Calendar.
Merry Christmas and Au revoir!